Why Food delivery companies are hitting the restaurant businesses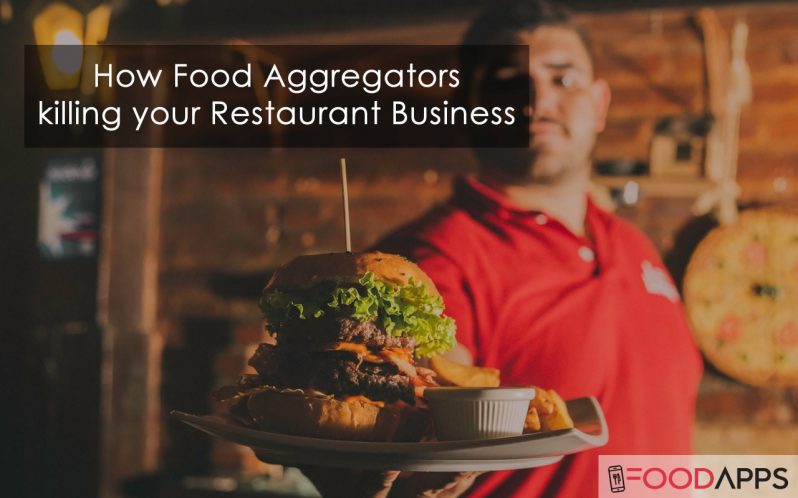 It looks tempting to see the audience are used to order food online instead of visiting the restaurant personally. This makes Food aggregator companies like Swiggy, Zomato, FoodPanda (Former), UberEat, etc popular in the Food ordering & delivery business.
This looks like an opportunity for all restaurant business. Even many restaurants are doing very well in sales by listing on these Food delivery websites & mobile apps.
How it looks and feel if we say in reality they are killing traditional Restaurant business and slowly going to the era of death bed if you don't adopt alternative solutions along with doing business on these food delivery apps.
So, Today we are going to discuss the facts which are not much promising if you want to grow your restaurant business for long term & profitability.
Fact 1: You are paying for getting the food orders for your business to earn a thin line of profits.
As you already know these food deliveries companies charging you a hefty commission from each order i.e. 10%-25% of order value. If you are running with good margins of 100-150% then there is no problem for you but for sure in competitive world margins are low about 50%-60%. This commission range of 10%-25% of order value eats your margin around 30% – 40% if you calculate it to deduct from the profit margins and you have to manage rest overheads of your business from the remaining amount.
So it has been clear that you are paying others to get the orders to your business to earn lean profit margins at the end. Which is not a good sign for your business for long term and growth.
We can overcome and control above expenses by having a White Label Food Ordering App in your Restaurant brand from a Food delivery apps development company.
Fact 2: Additional cost to manage different delivery mechanism of different food delivery companies
You tied up with the different Food delivery companies and each food delivery firm has its own process of the delivery mechanism. First of all managing food orders notification on different digital devices Mobiles, Tablets, Web Panels, TXT messages, Bluetooth printers, etc is a hurdle along with when you have to manage other core daily activities of your business. You definitely need to hire some dedicated person to handle all these orders productively. or, Need to subscribe with any third-party software to manage all these centralized which results in further monthly overhead charges.
Fact 3: No control over food orders delivery quality to your customers
You have to follow the delivery process of the Food delivery company because in actual customer placing an order with food delivery company not with you and to satisfy customer these food delivery company has their own rules to handle deliveries. For example, if the order is not prepared in the defined time it will be automatically canceled ( Either it is already half done by you or not, which results in wastage of food ).
Also, you don't know how many deliveries a delivery boy is scheduled to deliver along with your order. Multiple food deliveries at the same time result in delivering cold foods to your customers. And this is not good for your business. As a result, the customer puts negative ratings on these food portals which seriously hamper your business. As you already know the problem was with the delivery guy of the delivery company not from your side. But you have no control over it.
Yes, you can manage the above problem to some extent by changing your packing to some premium one with a hot case or something but it is not easy to manage that in lean profit margins. The extra cost will further add to your overheads.
Fact 4: Those are impacting your Restaurant Business Brand now
An order comes from a food delivery app that is placed by the customer who feels the experience of delivery of food to his doorstep. They remember the food delivery company if all goes well and in time but if something happens like said above then they give bad ratings to your business not the food delivery business. By using food delivery companies, customers become a customer for these companies, not your customers. Simply they are stealing your customers as they never share customer details with you. Whereas you know that data of the customer is a King if you want to grow your business.
Food delivery companies are growing day by day by making their company valuation without profits, whereas they have no inventory, no kitchen, no food preparation skills, nothing. God knows what will happen to your restaurant business if they vanish from the market in the coming years like many already ramped up like FoodPanda, etc. Because due to these food delivery companies, customers are more keen to order food to their place rather than a dine-in visit to restaurants.
Customers never get a chance to experience your hospitality services, the ambiance of the restaurant, your specialties, etc. They just remember the Food delivery company name and the food that delivery at that time.
Fact 5: Violation of your customer data information
They collect and store all information of all customers with them which they never share with you but they share these data with other businesses to sell their products by reading analytics from the information. They launch many marketing campaigns of selling credit cards, discount coupons of other companies and earn hefty profit margins from it.
Whereas you show to have these customer data with yourself so that you can run a marketing campaign to grow your business and it will not vanish away if some food ordering company shutdown or you break the tie-up with them.
Fact 6: Making a discount as an addiction to your customers
Huge influence of your customer behavior by offering them huge discounts/offers which come from burning huge money invested from VC & investors. Nowadays if a customer sees discounts then they make up their mind to transact else move to another place. No value to hospitality, taste, hygienic, ambiance services. This becomes a habit of today's generation of customers.
You have no control over the working style of your Food delivery company, They do whatever they want to do to earn more and more customers at that cost of services produced by your restaurant business.
Fact 7: It seems your business is completely in control of these Food delivery companies
In the present time, your whole or major part of your business has been influenced and controlled by these food delivery companies. There is no harm if you are earning well from them by adopting these change but it is alarming now because :
After so many years of operations of up and downscale operations, Still, these companies are not in profit yet.
Daily we hear some companies stop their operations or shutdown in similar domains.
They just earn valuation without any base and use investor money to survive.
Has their own mechanism of business operations with you, you can't add value addition to your customers.
The customer knows them and doesn't know your business brand.
If deficiency happens in their services it impacts the rating of your business, Some time it severy hurt that you have to shut your business.
The traditional dine-in restaurant has converted into delivery-only kitchens.
You have to offer discounts/offers to your customers as told by these food delivery companies.
The outcome to overcome these hurdles to grow your Restaurant Business
Yes, Working with Food delivery companies for the short term is a good start for your food delivery services. But for long term business growth strategy, you should adopt digitalization into your restaurant as soon as you can.
How you can promote your restaurant business through digital apps?