Digital Food Menu for your Dine-in Customers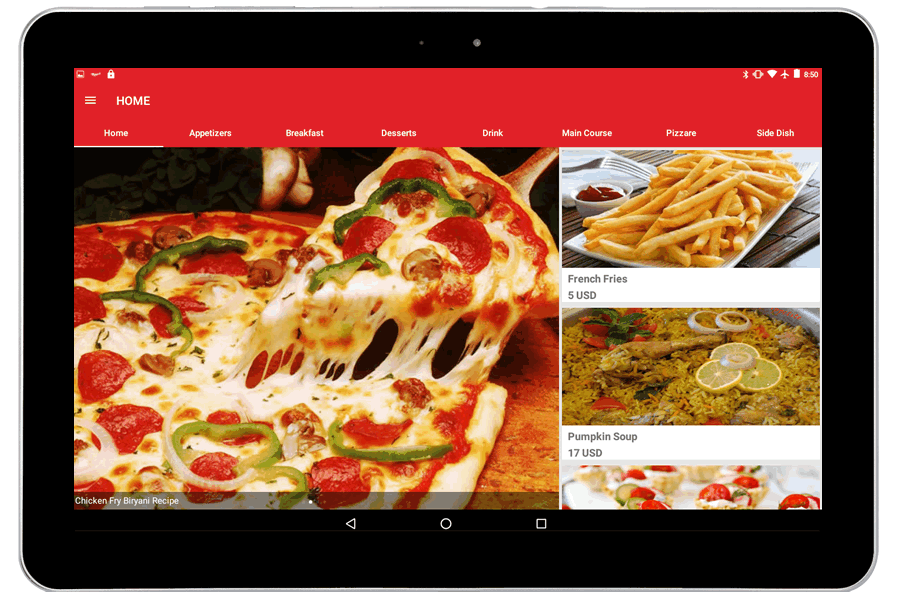 Optimize your order taking process & increase your revenue by giving a distinguished experience to your customers. They can browse your digital food menu on the tablet with today's offers & place their order of favorite foods. Restaurant dine-in order taking tablet app helps your customer to know the exact bill amount of the ordered food in advance so that there will be no unexpected surprises at the time of billing. This tablet app equipped with ibeacon technology which makes the app so intelligent that it automatically know, the order is coming from which table number and from which location.
Top Features of Restaurant Tablet App
Digital Food Menu
List food menu with image & text in different categories.
Place Food Order
Customers build their order & place directly from the tablet.
Today's Offer
Order directly goes to Restaurant assigned person's mobile app.
Featured Menu Listings
Showcase featured menu with the custom images.
Food Cart With Amount
Food order adds to the cart before sending to the kitchen to the order amount.
Payment via Cards
Pay at restaurant counter or via cards with in app.
Feedback Form
Customer provides their feedback for the meal.
Auto-detection of Table Name
Automatically detects the table name / number / location.
Powerful Back-end CMS
All content & images of tablet app managed by back-end CMS panel.