Automated Self Ordering KIOSK System ( Android Based )
Self Ordering Kiosk System / Self Service Kiosk System
Self Ordering KIOSK system designed to fit with all sizes of restaurants. Self Ordering kiosk hardware comes in a range of different categories, It reduces your overheads and scales your customer experience with efficient ordering process.
It automate your ordering process & improve your earnings by eliminating the extra restaurant staff cost.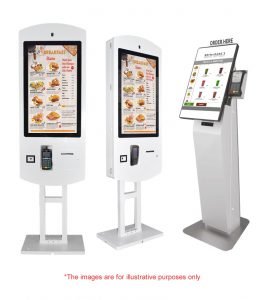 Reduce Your Overheads
When you automate your ordering process, It reduces the need for extra staff & you start saving money.
Increase Your Profits
Reduction in overhead led to sharp increase in profit. You will get high returns on your initial investments
Process More Orders
Efficient ordering process enable you to process more orders.
100% White Label
Your own kiosk system, No third party branding.
Dine-in, Take Away & Delivery
Customer can choose dine-in, take away or delivery.
Highly User-Friendly
Easy to select options in menu items via just touch.
Multi-Location Support
System can work on your multi-locations.
Multi-language Support
We can offer multi language selections for your customers.
Payment via Cards, Cash
Pay at restaurant counter or via cards with in Kisok system.
Automatic KOT Printing
System print automatic receipts on multiple thermal printers via bluetooth or wifi.
Credit Card Terminal
We integrate application with integrated credit card terminal machine.
Discounts & Gift Cards
System process discount coupons & provide option to buy gift cards.
Self Service Food Ordering System, Self Ordering Kiosk Software – Lebanon, Dallas, New York, Dubai, Berlin, Kuwait.