Top 10 Food Delivery Apps for Restaurants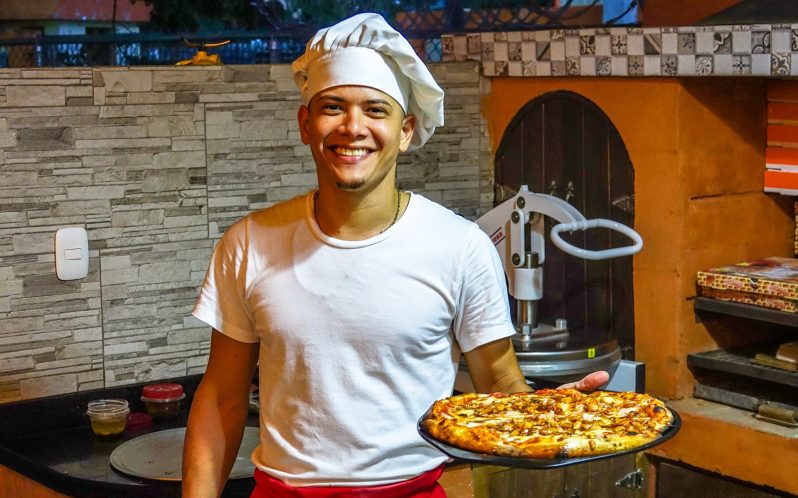 People are dependent on their mobile phones for every work from small to large tasks. Whether it is to buy something for household work or the work of paying for mobile or electricity bill all the tasks are to be managed on mobile phones using mobile applications.
In today's time where everybody works, people find less time to cook for themselves and their family, therefore they look and refer Food Delivery Apps Development Company so that they can get prepared food easily without leaving their home. They simply have to go through four steps: first is to go on the App store, second is download the app, and third is register on the app and the last select the restaurant and place the order. The top 10 food delivery apps for restaurants are as follows:
1) Swiggy: It is one of the most used and top-rated apps in our country. It is located in India in Bengaluru. It is presently available in India in eight cities. It has more than 10,000,000 downloads from the play store. Swiggy provides food delivery to the customers from the restaurants in a nearby location and it has no requirement of minimum order. With the help of the Swiggy Food App, customers can order their food in just a few minutes and the app detects the location of the user in order to provide fast delivery. It also has the facility by which customers can track his order like how much time will the agent take to deliver his order.
2) Zomato: It is also a food app that provides food ordering and delivery in about twenty-five countries across the globe. It can also be understood as a platform to search for an online restaurant. The main motive of this app is to provide the listing of the good restaurants to the users of the app. It also has its presence on social media so you can go through the reviews posted by the customers who have already used the services of the app and can get feedback about the food of different restaurants.
3) UberEats: This app is providing its services in around one-thousand nations. With the help of this app, customers are able to select their favorite food from their favorite restaurants and receive their food orders in the minimum time. This app is presently used by people of India, Mexico, The United States, and Japan.
4) FoodPanda: Since 2017, this food app is delivering its services in about forty-three nations. This is also a well-known app among the people, which has collaborated with a lot of local restaurants in various cities to offer their service of food delivery. The reason behind the popularity of FoodPanda is that it has large information about several restaurants from different cities. Also, there are offers and rebates which are easy to use and it has different methods of payments like cash, card, and online payment.
5) Domino's Pizza: Domino's is famous for pizza. It is a very well-known app famous for the fast delivery of food. It makes it possible for the users to place the order easily, quickly, and without making a call to them. They assure to make the food is delivered within thirty minutes of time. Different orders and deals are offered to the users so that they can choose the best deal for them and that too with numerous options for making payments such as cash on delivery, credit and debit card, online wallets, etc.
6) JustEat: This food app is a means of searching the nearby restaurants that are offering food delivery services. This was started in the year 2001 in Europe. The company has in its database about 82,000+ restaurants. It derives its profits by charging a commission fee from the restaurants. It has almost the same features as the Foodpanda has. It also has the option to apply filters on the menu they want to choose and different payment modes like cash on delivery, credit and debit card, online wallets, etc.
7) DoorDash: This App offers its services in more than three-hundred cities. The app is mostly used in Canadian cities (Calgary, Edmonton, Toronto, Vancouver) and U.S. cities (Seattle, New York, Atlanta, Chicago, and Boston). The main object of this app is to provide customer satisfaction along with the food delivery services, that is why it keeps an eye on the quality of food as well as the delivery time of the orders.
8) Grubhub: This food app was commenced in the year 2004. It has around more than thirty-thousand restaurants. Its office is located in New York, London, and Chicago. It has a customer service team that is available 24×7. You can look for your favorite food in this app by browsing their list of restaurants.
9) Deliveroo: It is the most prominent food delivery app in Europe. It operates in more than 200 cities. It is based in London. Customers can place an order from those restaurant outlets which do not have their own set-up. They charge a fee from the customer with respect to their order and the restaurant pays a commission fee for the service. The food is delivered quickly and customers are attracted by lucrative deals and coupons.
10) Faasos's: This food app has a lot of customers from Indian cities such as Bangalore, Hyderabad, Mumbai. This food app was launched in the year 2011. With the help of this app, users can search for the best menu available for them in near places. This app runs well with the iOS, Android and Windows operating systems.
The main reasons for the popularity of food apps are that the users derive the following benefits:
They can see the food menu and can access it with great ease.
The tracking system is also available in food delivery apps which facilitate to see the time taken for the order to reach the customer.
Customers, as well as restaurants both, can get information about each other.
They also provide the facility to repeat your order from your favorite restaurant so that you don't have to search for it again.
Apps offer a good experience to the user to get their food while sitting at home.