How tablet can be used to take order at Restaurant ?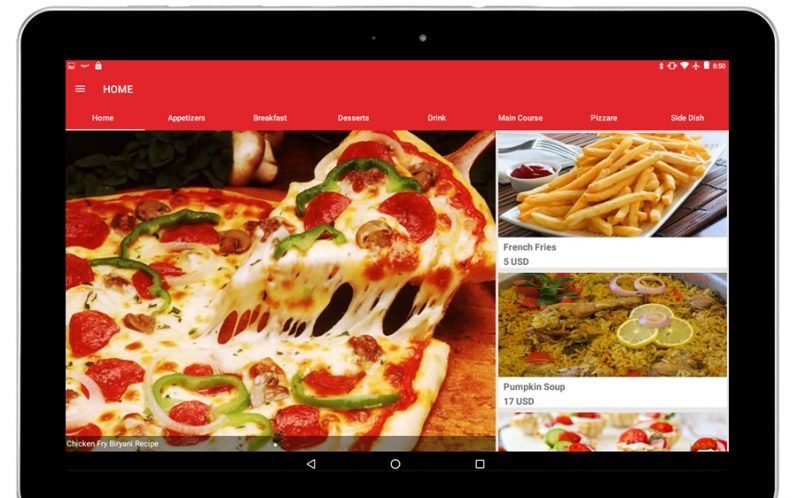 In this digital age of customers greeting a customer with a welcome message is not enough in Food business. They want some innovative ideas & value addition of digital technoilogy to make their restaurant visit memorable.
Although Restaurant business can gain many advantages from digital solution through the various medium like a Mobile app for Restaurant to make their brand visible and in hand of customers as they keep their smartphones all time of their living.
Using a Restaurant Order taking tablet app at restaurant dine-in experience is a great way to present exclusive facility to your customers. They really loved it as the innovation in any process keeps rank higher for the success of any business.
Here are the top ways by which you can use tablets at your Restaurant in an extensive way as following :
Restaurant Tablet App can be your digital menu literature for your customers. They can easily browse food menu items along with the present offers running duration of that time. You can update this food menu at regular interval of time which is hard to do in case of printed menu catalog.
Your customer can browse, select items & order from the Restaurant tablet app directly. There is no need of any waiter to stand by the customer to take the orders. These orders will directly push to the SMS printers placed in the kitchen of your restaurant for faster processing of orders.
A Restaurant tablet app reduces the chances of any error by the waiter in taking an order from the customer.
Staff at the kitchen can update the total estimate time through his order management app which reflects the exact time of order to be reached to the table where your customer is sitting. This gives an assurance to your customer to relax until the time it also optimizes your process of procuring the orders for your customers.
A Restaurant order taking tablet app automatically sense the table name & location from where customer placing the order through the ibeacon Bluetooth technology.
Customers can easily know the exact amount of total bill of order in advance before placing the order this gives a transparency to your customers.
You can promote special offers through the Restaurant tablet app by pushing a fresh coupons to tablet app from time to time basis.
All food menu content & other information in the tablet customizable through powerful back-end panel so there is no need to spend on printing again n again just go to CMS and make the changes on day to day basis.
 Save your overheads, Image you have 15 table in your dine-in premises and eventually, you need around 6 – 7 waiters to cater the customer needs. A Restaurant tablet app can reduce this number to 2 – 3 or less to save your overheads and increase your profits.
The customer feels royal by seeing an innovative technology at your restaurant which makes your brand distinct from other businesses.
Apart from a tablet, you can use digital technology in your business in many other ways like :
Mobile App for Restaurant ( Marketing & branding solution )
Digital Food Menu Tablet App With any feature just showcase your food menu in a digital style which you can update through user-friendly CMS.
Beacon technology to greet your customers with personalizing messages in push notifications of their smartphones.
See this, few use cases where you can adopt Digital solutions for Restaurant Business
Also, check Restaurant App development cost India