On-Demand Food Delivery MarketPlace – What it is & Why it is popular?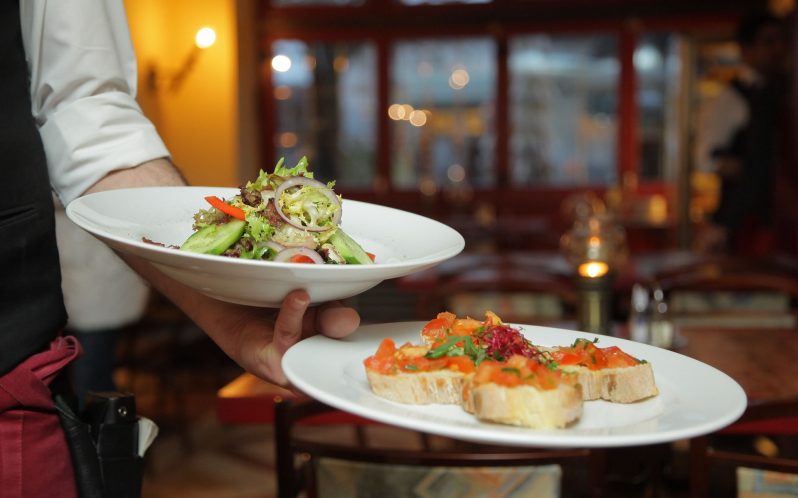 You have many questions to know more about the On-demand Food delivery marketplace. Today we are going to provide great insight into the few of the following questions which regularly popup from our clients.
What is a Food Delivery Marketplace / Food Ordering Market Place?
Why Food Ordering marketplace so much popular these days?
What all the solutions you need for launching a Food ordering marketplace business?
How Food delivery marketplace work?
How can you execute your business if you want to start the On-Demand Food Delivery Marketplace business?
As you already know that these days, Food ordering & delivery Marketplace website or mobile apps popularise among customers who are much influence with the present time of digital technologies. Food aggregators like Zomato, FoodPanda, Doordash, Deliveroo, Justeat, etc are very much famous these days due to ease of ordering favorite food by the customers at the convenience of their home or office.
Whereas, As per reports digitalization penetration into the food industry is standing on only 5 – 10% only. There is so much scope to enter into this Food delivery marketplace business model.
What is a Food Delivery Marketplace / Food Ordering Market Place?
MarketPlace Model – First we need to understand what is a MarketPlace Business Model. Any online or offline business model which facilitates their platform to promote businesses in a particular industry & end-consumer use that platform to choose services or products from different businesses to consume or buy them is called as MarketPlace platform. Different examples of various MarketPlace platforms are Amazon, eBay, Oyo, AirBNB, Booking.com, Hotels.com, Expedia.com, Doordash, FoodPanda.com, etc.
Food Delivery Market Place / Food Ordering MarketPlace –  A platform which facilitates different Restaurant business to register & put their food menu for ordering or delivery and end customers places orders to get their favorite food is termed as Food ordering or delivery MarketPlace platforms. These platforms can be a Marketplace Website Portal or Marketplace mobile apps. 
Earning Opportunity – Marketplace owners charge restaurants monthly subscriptions or commission on every order or advertising fees or delivery fees to facilitate marketplace platform features. It's a good opportunity to earn passive income from this business model. Several popular food aggregators also launch their membership plans for customers to provide them regular discounts, exclusive services, etc.
Why Food Ordering marketplace so much popular these days?
Although you already know why the Food ordering marketplace website or mobile apps popular these days. It's all because of the high adoption of digitalization in the present generation of the peoples. Ease of browsing information, stay up to date, getting offers in the palm of the customer, easily visible to customers, easy engagement with the customer, chances of great scalability of the business, the potential to grow customer reach, etc are the points which makes us understand why digitalization is so much popular these days.  
Top Ten Reasons Why Food Ordering marketplace business is widespread these days:
Platform to promote Restaurant businesses: Marketplace platform promotes all restaurants in your nearby area and gives them the opportunity to reach vast numbers of customers.
Ease of convenience: Due to busy life day by day, it saves time in moving to the restaurant. Customers can easily place orders from their home or office at their desired time. It just needs a few clicks in smartphones or websites to get their favorite food delivered at their doorstep or can pickup while they passing through the restaurant.
Easy to browse different food dishes: Customers download single food ordering marketplace mobile app or visit a single food delivery marketplace website to browse different food items of all nearby serviceable restaurants. They don't need to download apps for several available restaurants.
Customer engagement: Ease to engage with the customers directly through emails, push notifications, discounts & offers, announcing the latest news, gift cards, memberships, etc.
More orders to Restaurant: Due to market place website & mobile apps restaurants can open additional revenue generation division which dedicatedly provides order execution for delivery & pickup apart from food services for dining areas.
Reduce overheads of Restaurant: Now those are registered with food aggregators, they do not need to spend on marketing efforts. The food marketplace does its marketing efforts to get more n more customer traffic to its Food delivery market website & food delivery marketplace mobile apps.
Potential to Earn Passive income: More n more business owners dive into opening food ordering marketplace business due to the potential of earning in this industry. There are many profit plans in the marketplace business such as,

Subscription-based monthly fees
Commission on each food order
Delivery fees by providing riders to restaurants
Advertising packages for the restaurant to come on top in search or on the home page.

Discount & Offers: Customers place food orders on market place to earn reward points, discount offers from different restaurants, gift cards, etc. Customers are able to see all the offers of all the restaurants in one place.
Different methods of Payment: Customers moving to food ordering apps because it has so many payment options to pay from which are ranging from Cards, Wallets, Internet Banking, Cash on delivery, Reward Wallets, etc.
Options for placing Food Orders: With the ease of placing food orders, Customers can also choose different services for their food orders like Dine-In Table booking with food order in advance, Food ordering for pickup at the scheduled time or Food ordering for home/office doorstep delivery.
What all the solutions you need for launching a Food ordering marketplace business?
So, planning to know more about what all digital solutions you will need to launch the Food delivery marketplace business. Primarily to make an optimum process so that your business will run with full productivity you need the following solutions :
Web Backend for Restaurant Admin
Master Backend for Market Place Owner Staff
Order management app for Restaurant Kitchen 
Food Delivery app for Delivery Riders 
How Food delivery marketplace work?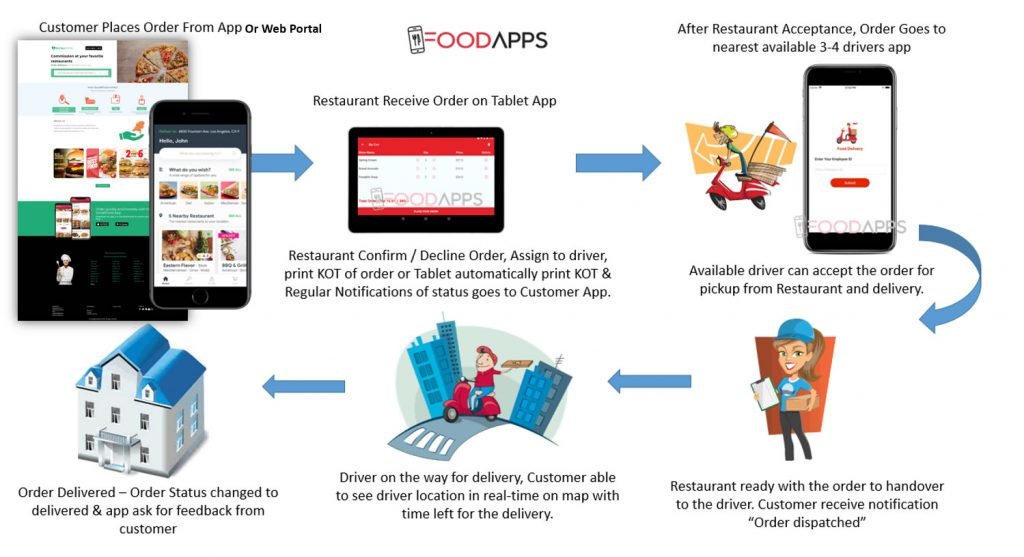 The marketplace has been setup as a web portal and mobile apps. Customers visit the Food delivery marketplace website or mobile apps browse food menu for nearby restaurants. Create and place the order from chosen restaurant which directly goes to Restaurant Order Management Tablet App / Mobile App. They process the order and assign it to the nearby available delivery boy to deliver the food order to the customer doorstep.
How can you execute your business if you want to start the On-Demand Food Delivery Marketplace business? 
You have to options to execute this business model. One is Ready Food Ordering Market Place solution available with many vendors or get a custom developed Food Ordering Market Solution which will be developed purely based on your requirements.
Both solutions have their own advantage & disadvantage. Ready Food delivery market place solution is easy to set up and cheap way of procuring the different solutions but their features are prefixed and there is less chance of scalability if your business grows.
Where Custom development of Food Ordering MatketPlace website or mobile apps completely developed based on your requirements, highly scalable, code ownership will be yours, the solution will be a core asset for your business.