Get own branded Restaurant Mobile App
White label Restaurant mobile app with many innovative & exclusive features. Below is the list of features it contains if there is some missing feature contact us today & we Restaurant mobile app development company India will get it code for you.
Offers to Mobile
Send specific offers to your consumers on Mobile.
Updated Food Menu
Show updated Menu items with pictures.
Back-end Management
Manage restaurant mobile app data through easy to use admin console.
About Restaurant
Restaurant image gallery, directions, direct call button, about info.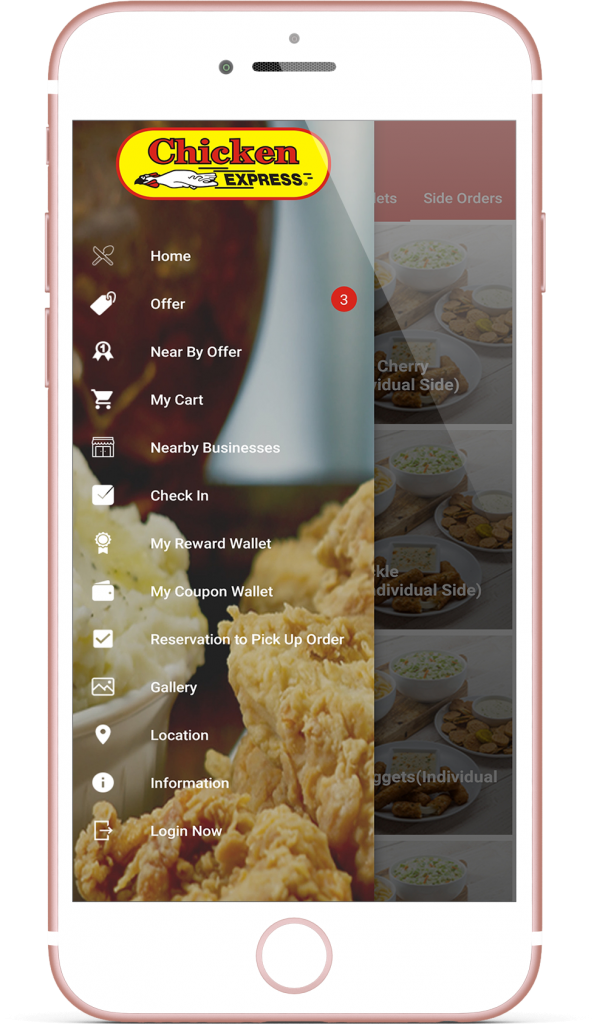 Showcase your Restaurant Ambience
List gallery of pics of your restaurant property.
Reservations (Optional)
A customer can make reservations for Dine-In or Food Pickup via mobile app to avoid a standing queue.
Broadcast Nearby Offers
App sense your restaurant and show latest offers to your customer on their mobile phone.
Solution
App available for both platform i.e. iPhone & Android.
The Uniqueness of this Restaurant Mobile App
We developed an exceptional SMART Restaurant Mobile App solution to scale your business. Which helps you in the branding of your Restaurant and also increases your overall incomes through proximity broadcasting offers to nearby passing customers. Your customers get's offers/newest affairs on their mobile phone every time when they cross through your restaurant in the range of 200 meters.
This app developed by Restaurant mobile app development company India which is implemented with iBeacon technology and has a characteristic to get offers from nearby located iBeacon devices. As a Restaurant owner, you can set these devices anywhere at the entrance of your restaurant, in the parking area or some crowded area. These small devices have the battery life of a several of years & broadcast offers to the nearby mobile phones users in the range of 200 meters who have installed your app.
Basic Restaurant App
$299 *One time
Works for Single Location
Unlimited Food Menu
Mobile Platform (Android)
Push Notification Offers
Restaurant Image Gallery
Featured Food Menu Item
Image slider on Home Screen
Dynamic Food Menu Categories
Menu with Dish Images & Text
Custom branding (20 hrs)
Directions on Map
Easy to manage CMS
Login / Sign up / Forgot Password
 Premium Restaurant App
$699 *One time
Works for Single Location (Addon: $99 each location)
Unlimited Food Menu
Both Platform (iPhone & Android)
Push Notification Offers
Broadcast nearby offers (*ibeacons)
Restaurant Image Gallery
Featured Food Menu Item
Image slider on Home Screen
Dynamic Food Menu Categories
Menu with Dish Images & Text
Table Reservation
Table Reservation with Food Order
Payment via Cards – Paypal & Stripe
Custom branding (20 hrs)
Directions on Map
Order Processing Tablet App ( $299 extra )
Easy to manage CMS
Login / Sign up / Forgot Password
Facebook Login
*You have to purchase ibeacon device separately.
*ibeacon actual cost around $20-$30